Villa Altwaldorf B&B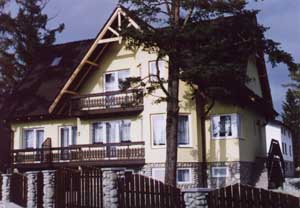 Vila Altwaldorf is a new and up-to-date furnished guesthouse**, which was open on New Year's Day 2001. It is an ideal place for a family holiday and it is situated in a quiet area near a forest on the outskirts of Stará Lesná in the High Tatras. The guesthouse comprises 9 rooms and apartments, where each of them is equipped with a private bathroom and toilet, TV + SAT; some of the rooms have balconies with a view on the forest and the Studený Potok creek.
Every morning you will enjoy substantial continental buffet breakfast and in the evening we offer delicious home-cooked dinner. In the Vila yard one will find garden party facilities with a fireplace. We offer
parking facilities free of charge
in the fenced yard.